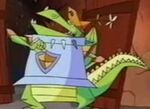 Sir Hotbreath the Not So Proper
is a knight of the Square Table, serving
King Allfire
.

He is a short dragon who often scorches those around him with his uncontrollable fire burps.
In The Stone of Wisdom, Hotbreath is the second dragon to be eliminated when he can't run up the escalator. Ironically, he figures out how to get the escalator to go up right when Flicker, Burnevere, and Loungelot are trying to run down, away from a giant stone.
In Hermits and Heroes, Hotbreath was the least impressed by Flicker's new invention, the switch armory sword. While Blaze said its thin blade was easier to use, Hotbreath said that knights use broad swords, and argued with him over how to trim a tree.
In Bleepin' Beauty, Hotbreath made his final appearance, and agrued with Burnevere over how to put Sleeping Beauty to sleep. While Burnevere suggested hypnotism, Hotbreath suggested anesthetic (hitting her on the head with a hammer), but was never able to hit her, hitting Galahot by mistake.
Like Galahot, Hotbreath does not appear in Season 2 and was never mentioned.
It is unknown if he was named after a knight of the round table, but his name is consistent with the fire-themed names that most dragons have.