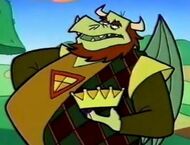 MacBreath
is a dragon of Scotland. He only appeared in the episode,
MacBreath
.
MacBreath killed Sir William Furnace, the king, in order to become king, as he believed there were none left in his bloodline, and the will said that the throne would go to him in this case. However, there were two relatives that he was unaware of: Sir Burnevere, and Duncan. When Burnevere arrived to claim the throne (although he did not want to), MacBreath repeatedly tried to kill him, eventually intending to murder him at Loch Ness the same way he killed William. However, Duncan threw the club from the stone at Sir Loungelot and hit MacBreath instead, knocking him out of the boat. When his true intentions were revealed to MacBreath by Flicker, Burnevere raised the golf club to his MacBreath on the head, and he dove beneath the water.
MacBreath was never seen again following this, but it is presumed that he was imprisoned or executed for killing William and attempting to do the same to Burnevere.
MacBreath is an obvious reference to the Shakespeare character, Macbeth, who kills Duncan, the king of Scotland, to take his throne.