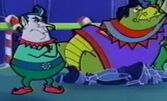 Jack Frost is a spritelike elf who creates winter and the Northern Lights. He lives in the Arctic.
In Ice Try, when Flicker, Sir Loungelot, and Cinder and Clinker came to the Arctic, Jack asked them to pay a toll. Though Flicker, Cinder, and Clinker each gave him a gold coin, Loungelot gave him a wooden coin, and Jack chased him across the Arctic throughout the entire episode asking him to pay up.
After repairing the North Pole, which was destroyed during the chase, Loungelot gave Jack a gold coin, but Jack made him work on the Northern Lights show with him to pay for the money he lost while chasing him.