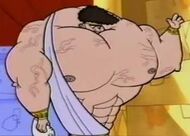 Hercules
is a demigod of Greece, and one of the judges of the Gargantuan Greek Games in the episode,
Infernal Flame
.
Hercules has the appearance of a large, muscular man. In mythology Hercules is known for his super strength.
His picture is offered to Count Geoffrey by Flicker in the episode Chain Mail Letter.
According to Greek mythology, he should actually be a demigod and his name should be Heracles ; Hercules is his Roman name.