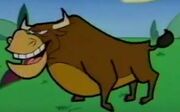 Cowsius Clay
, or
Cauwsiuclay
(as spelled in his poster) is a cow, a bully, and the leader of a gang of cows in Spain called the Mooers. He only appeared in
The Reign in Spain
.
Cowsius is undefeated in 800 boxing matches, and killed many of his opponents. His promoter and manager is King Don, who is conspiring with him on a real estate scam and is always betting on him.
When the dragons of Camelhot came to Spain, Flicker fought against Cowsius, and Flame gave him a red cape that Blaze bought at a shop. Cowsius was enraged by the red cape and attacked it rather than Flicker, eventually slamming into a dead cow hanging from the ceiling, which dazed him. Flicker knocked him to the ground and won the battle.
Cowsius's fate after the battle is unknown.